Site Contents Copyrighted 2007
Entire Site And Its Contents Are Published, 2004-2010, By "The Brooklyn Saltwater Fishing Photo-Guide", a Div. Of "WrightMichael", a-k-a "NYP3 Websites" NYC Fishing Informational Guides." All Rights Reserved. Permission Must Be Granted To Use Certain Written Informational Passage's And Quotes Published On Our Site, If You Intend To Use Them On Another Website, Or For News Media/Publishing/Electronic Broadcast Purposes. You Will Also Be Required To "Credit" Our Web Site As The "Source" For Said Information. All .jpeg Photos, Art, Gif's,Images, Etc. Published On This Site Are Copyrighted, And Cannot Be Used, Downloaded, Uploaded, Etcetera, Without The Express Written Of Us, Or Their Respective True Owners. We Have Posted "Links" To The True Sources For Most "Other Materials" That Are Posted Herein. The Information Provided, Published, On This Web Site Is For The General Informational Purposes Of The Worldwide General Public At-Large, As Perscribed Under The U.S.A. "Freedom Of Information Act", And "The First Amendment."

All .jpeg Images Posted On This Website Are The Exclusive (C) Copyrighted Property Of Michael T. Wright, a-k-a "Wrightmichael", and G. Marks, and S. Spielberger. Any Copying, Downloading, Uploading, Useage Without Our Expreess Authorization And Permission Will Result In "You" Being Billed At The Rate Of $10,000.00 Per Image. We Search The Internet on A Regurlar-Basis For Such Usage. As A Member Of The News Media-Working Press, My Photographic/Video Work Is Of A News Media Nature, Protected Under The First Amendment And Other Applicable Laws In Effect.




NYS DEC "ECO" BOB REMINDS YOU THAT ALL NY STATE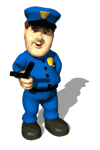 FISHING REGULATIONS ARE IN EFFECT IN ALL NYC FRESH & SALTWATER AREAS!
Say, Do You Also Enjoy "Recreational Freshwater" Fishing ?...In An Urban NYC Park ?...Have You Tried It Yet ?...Do You Require More Information On It ?...Need To Know What NYC Parks You Can Fish In ?...
If You Answered YES, Then Please Visit "Our Sister Web Site" Dedicated To "Freshwater Fishing In Urban NYC Parks!."
Just "Click The Title Link" Below This And You Will Be Instantly Taken There!!!
PETER PAN DONUT And MUFFIN SHOP..."The Best Donut & Coffe Shoppe In All NYC!"...Open 7-Days From 05:30 a.m. Till Closing. Manhattan Avenue Between Norman Amd Meserole Avenue's (Next To Eckerd Drugs), Greenpoint, Brooklyn. WE RECOMMEND! --- It Was Featured On WNBC Newschannel 4 As One Of The BEST Donut Shops In NYC.
Mowimy Po Polsku!....Greek!.