KNAPP STREET SEAWALL- (C) 2000 M.T.WRIGHT
The SEAWALL AT KNAPP STREET Is Located At The Eastend Of Emmons Avenue, Block West Of Knapp Street, The Belt Parkway. It Is The Area With A Large Fece Around It, Just Opposite The Windjammer Motel, And The Old Casino Boat Pier. Basically This Once Was A Dock Used By NYC DEP's Tanker Ships, Whereby Raw Sewage Was Loaded From The Nearby Sewage Treatment Plant, Through A Large Outlet Pipe That Was Then Rigged To The Tanker Ship. This Spot Is The Bay's Most Popular. Year-Round Fishing Spot At The Inlet To Both Jamaica And Sheepshead Bay's. This Spot In On NYC Government Property. It Is Believed That NYC DPR Has Jurisdiction Over It. National Park Service Police Are Known To Stop By There On Occassion, Though It Is Not A "GWNRA" Location.
Fellow Anglers!. If You Know Of Any Other Brooklyn Spots That We Have Not Listed Here, Please Tel Us About It. Better Still, Send Us A .jpeg Photo(s), And Detailed Information On The Location. Tell Us About Your Personal Fishing Experience There. I Agree, We All Have Our Private, Hidden, Secret Spots That We Keep To Ourselves, But Seriously, Please Share Them With The Rest Of Us. Thank You.

AVOID THIS AREA:

You Seriously DO NOT Want To Fish In SPRING CREEK, In The General Area Of The GATEWAY SHOPPING PLAZA (Belt Pkwy. & Erskine St.). Also Avoid Fountain Avenue to the Dead End opp. The Belt Parkway--- Known Dumping ground for dead bodies as well. Remember, There Is An Old Sanitation Landfill There. a-k-a "Toxic" Stuff. Man Avoid It. Let them build their proposed public access to it as they are at Great Kills in Staten Island. "You Build It, People Won't Come!."
And We Applaud NYS DEC, NYC DEP, and The Army Corp Of Engineers, For Reclaiming The Area, Renovating The Shoreline Around The Landfill. But Again We Say, "If You Don''t Wanna Glow Green" Some Day In The Future, "DO NOT FISH THERE, DO NOT EAT FISH" Taken From That Area.

Under NYS DEC Regulations "SHELL FISHING IS ILLEGAL IN JAMAICA BAY!."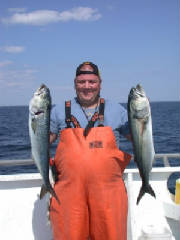 See, "BUFF" Scored Aboard A Sheepshead Bay Party Boat!...How Bout You ?
Notice: Please Call Each Vessel At The Listed Numbers For Information And Schedules!. WE Cannot Guarantee Whether The Posted Contact Numbers/Links If any Are Still Active Or Not. Worst Case Scenario, Use The Phone Book, Or See Their Ads (If Any) In NOR'EAST SALTWATER Under "NY BIght." We Cannot Be Legally Held Responsible In any form or manner for the level of service you may or may not receive on any noted vessel herein, Nor can we personally Vouch for them. Any service related problems should be personally taken up with the vessel Captain. The "Listings" and/or "Links" herein are provided as a Service to You The Angler. We Cannot be legally held responsible nor Vouch for the content of any noted "Linked Site," nor for any/all problems you may encounter "Linking" to "Their Site" Via "Ours."
The BROOKLYN 6: (718) 743-8464.
CAPTAIN DAVE: (718) 491-9702/ (917) 251-2628.
OCEAN EAGLE (@ Pier 5:) (718) 981-9750/(718) 258-4126.
PASTIME PRINCESS: (718) 252-4398.
SEA QUEEN 4 & 5, & The EMERALD PRINCESS: (718) 646-6224
(Visit Their Website Via The Link Below).
SUNSHINE FLEET: (718) 945-6931
STELLA MARIS CHARTERS: (718) 769-5678.
SEA QUEEN FLEET Website (Click)

GERRITSEN BEACH/KNAPP STREET CHARTER BOATS (Nearby To Sheepshead Bay):
FLAMINGO 3: (718) 763-8745. www.flamingo3.com

; BIG M EXPRESS IV CHARTERS: (917) 822-6770 / (347) 672-8453 APRIL LYNN CHARTERS (Knapp St./Belt Pkwy.) (718) 629-3615 www.FishNYC.com
BIG M EXPRESS CHARTERS Website (Click)

BOAT RENTALS (For Fishing Eastern Jamaica Bay Only)- (You CANNOT Fish The Rockaway Point Jetty Area From Rental Boats Such As Skiffs!):
SMITTY'S FISHING STATION B&T
East 9th. Road (East Of Cross Bay Blvd.)
Broad Channel, Queens
(718) 945-2642

HOWARD BEACH, QUEENS PARTY BOATS:


LONG ISLAND PARY BOATS: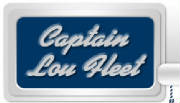 CITY ISLAND, BRONX:
CITY ISLAND, BRONX Official Website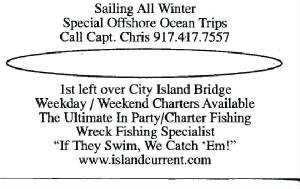 CONN: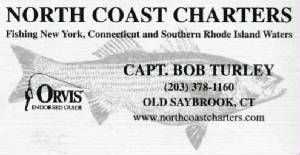 FYI-- Midi Music Wav On This Page Is Of The 'Evanescence' MegaHit 'My Immortal.'

PLACES TO DINE ALONG EMMONS AVENUE IN SHEEPSHEAD BAY:
RANDAZZO'S CLAM BAR: 2017 EMMONS AVE. At E.21st. STREET- Gotta Luv The Calamari!
ROLL-N-ROASTER: On EMMONS AVENUE, EAST OF BEDFORD AVENUE.

EL GRECCO...A 24-Hour Diner, Sheepshead Bay Rd. & Emmons Avenue.
Yes, The Famous LUNDY"S Restaurant Is Again Closed!.
Yes, There are Pizza Places Along Emmons Avenue Too!