NYC DEP RESEVOIR/WATERSHED FISHING INFORMATION Link
A MAP OF BROOKLYN WILL EASILY HELP YOU LOCATE EACH NOTED "HOT SPOTS." "MAPQUEST" AS WELL.
The CANARSIE PIER, Located At The Southern Tip Of Rockaway Parkway At The Belt Parkway, Is One Of The Most Popular Year-Round Fishing Spots. It Is On Jamaica Bay. Unless Their Is A Blizzard, A Noreaster, Or Sub-Freezing Temperatures, You Are Sure To Find Recreational Anglers With A Line Or Two In The Water. Often On A Good Summer Night Finding A Spot Is Near Impossible. The Pier Is Under The Jurisdiction Of The National Park Service, Gateway National Recreational Area. As It Is Federal Property, Any And All Illegal Activity Is Taken Quite Seriously, And You Must Appear In A U.S. District Court. So Heed The Warning. U.S. Park Police Routinely Patrol The Pier, And There Are Park Rangers On-Duty From Dawn To Sunset. Plenty Of Free Parking Is Available, Only Exceptions Are Memorial Day And Labor Day When The Pier Is Full Of People. There Are Bathroom Facilities In The Park Office, And Food Is Available At A Fast-Food Counter (May Be Closed In The Winter). We Suggest That You Drive or Walk And Few Block North On Rkwy. Pkwy. To Get Food. Picnic Benches Are On-Site.
GATEWAY NATIONAL RECREATION AREA Website
The World Famous STEEPLECHASE PIER
"Caution!...Young Angler At-Work!"...
My Friend & Fishing Buddys Nephew, Jacob, Likes Fishin' Off The Steeplechase Pier!
CONEY ISLAND, USA...Home Of The Worlds Most Famous Amusement Park Area, Beach, Nathan's Famous Hot Dogs, The NY Aquarium, And The Popular Minor League (NY Mets) CYCLONES Baseball Team, At Keyspan Park. Annual Events Include The Mermaid Parade, Nathan's Hot Dog Eating Contest, And The Friday Night Fireworks Spectacular. NYC Subway's Including The "D", "F", "Q", "N" Line Stop Here. Take The Belt Parkway And Exit At Either Cropsey Avenue Southbound, Or Ocean Parkway Southbound...Then Just Follow The Signs To The Beach. The Beach Area And The STEEPLECHASE PIER Are NYC DPR Jurisdiction. Surf Fishing On The Beach During Season Is Prohibited. The STEEPLECHASE PIER, Loacted Along The Boardwalk, Just Way Out Into The Atlantic Ocean Past The Swiming Area, And Is Almost Shaped Like A "T." This Is Another Year-Round Popular Fishing Spot (Inclement Weather Permitting). It Can Get Very Crowded With Anglers And Tourist's Alike On A Good Summer Day, Or Night. Another Popular Spot Is From The Jetty Rocks At The Beach At West 37th. Street. But Use Caution Doing So, As A Few Anglers Have Slipped On The Rocks And Were Either Seriously Injured Or Pronounced Dead Right After Doing So.

FYI- NYC DPR Enforcement Is Inspecting The Bags Of All Steeplechase Pier Users. They Are Looking For Alcohol, So Be Aware Of This, All You Beer Drinking Fishermen. No Alcohol Permitted On The Pier, Period!.

HOT TIP ON A SECLUDED SPOT NEARBY!...If Ya Travel Northbound On West 37th. Street From The Beach, Alongside Of SEA GATE, A Small Road Will Take You To A Secluded Beach Area, Northside Of The SEA GATE Cooperative. There You Can Surf Fish Where Coney Island Creek Meets Both The Atlantic Ocean And Gravesend Bay. Give It A Try!!!.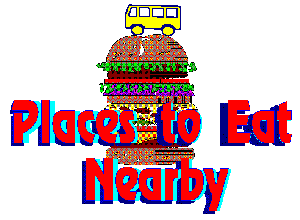 NATHAN'S FAMOUS: SURF AVENUE At STILLWELL AVENUE.
Brooklyn CYCLONES Baseball Website
GERRITSEN BEACH...Brooklyn's Seaside Irish Enclave. Bungalow Homes Nestled On Narrow Streets. Fishing Is At The Southern Tip Of Gerritsen Avenue, At The Southern End Of The Saltmarsh, At Gerritsen Bay Inlet. This Is South Of Avenue "U' Along Gerritsen Avenue. Fish Either The Beach Area, or The Small Dock At The Dead End Parking Area. This Is NYC DPR Jurisdiction Property. No Outdoor Public Bathrooms Nearby.
Food Can Be Found At Nearby Deli's And Pizza Shops, On Gerrtisen Avenue.
TAKING A STROLL IN MARINE PARK!

ERIN GO BRAGH!
ROSCOMMON
MARINE PARK...The SALT MARSH!. Pictured Is The NYC DPR's ENVIRONMENTAL CENTER, Located On The North End Of The Salt Marsh, Along Avenue "U.", Just Opposite The Southend Of Marine Park, Where You Can Find Free Parking. This Is NYC DPR Jurisdiction. Urban Park Rangers Are On-Site, And DPR "PEP's" Patrol The Area. On Foot, On Horseback, And In Dune Buggys. Fishing Is Only Permitted Along The Westside (Right Side) Of The Enviro. Ctr. In The Salt Marsh. Eastside (Left) Is For Nature Explorers Only. The Salt Marsh Ends Along The S. End Of Gerritsen Avenue. Small Craft Can Access Much Of The Marsh, But It Is Not Suggested At Low Tide. Good Surf Fishing Spot. A Number Of Species Of Fish "Spawn" In The Salt Marsh.
The Community Of Marine Park Is Yet Another Strong IRISH Enclave. We Say, "FAILTE" To Our Web Site, To Our Many IRISH Brothers And Sisters In Marine Park, Gerritsen Beach, Bay Ridge, Park Slope, Windsor Terrace, And The Greenpoint/Northside Communitie's!!!. "We Were There FIRST, Before The REST, And Indeed, STILL ARE!." There Are Bathrooms At The ENVIRO. CTR., When It Is Open. No Food Facility On-Site, Bring Your Own.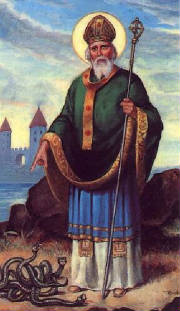 St. PATRICK

OUT OF IRELAND TV, On PBS WLIW-21...

(Click Image To Access Their Website!)
"Ceol na nGAEL ROCKS!!!"