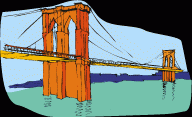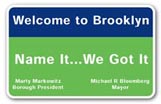 NYC DEP RESEVOIR/WATERSHED FISHING INFORMATION Link
A MAP OF BROOKLYN WILL EASILY HELP YOU LOCATE EACH NOTED "HOT SPOTS." "MAPQUEST" AS WELL.
The Canarsie Pier (c) 2001 M.T.WRIGHT

The CANARSIE PIER: Located At The Southern Tip Of Rockaway Parkway At The Belt Parkway, Is One Of The Most Popular Year-Round Fishing Spots. It Is On Jamaica Bay. Unless Their Is A Blizzard, A Noreaster, Or Sub-Freezing Temperatures, You Are Sure To Find Recreational Anglers With A Line Or Two In The Water. Often On A Good Summer Night Finding A Spot Is Near Impossible. The Pier Is Under The Jurisdiction Of The National Park Service, Gateway National Recreational Area. As It Is Federal Property, Any And All Illegal Activity Is Taken Quite Seriously, And You Must Appear In A U.S. District Court. So Heed The Warning. U.S. Park Police Routinely Patrol The Pier, And There Are Park Rangers On-Duty From Dawn To Sunset. Plenty Of Free Parking Is Available, Only Exceptions Are Memorial Day And Labor Day When The Pier Is Full Of People. There Are Bathroom Facilities In The Park Office, And Food Is Available At A Fast-Food Counter (May Be Closed In The Winter). We Suggest That You Drive or Walk And Few Block North On Rkwy. Pkwy. To Get Food. Picnic Benches Are On-Site.


GATEWAY NATIONAL RECREATION AREA Website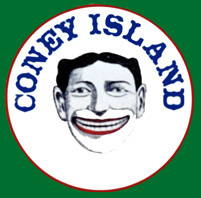 (C) Copyrighted 2010 M.T. Wright
The STEEPLECHASE PIER
(C) Copyrighted 2010 M.T. Wright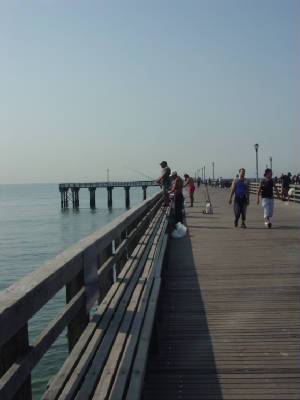 The STEEPLECHASE PIER
The WORLD FAMOUS STEEPLECHASE PIER In CONEY ISLAND, USA..Home Of The Worlds Most Famous Amusement Park Area, Beach, Nathan's Famous Hot Dogs, The NY Aquarium, And The Popular Minor League (NY Mets) CYCLONES Baseball Team, At Keyspan Park. Annual Events Include The Mermaid Parade, Nathan's Hot Dog Eating Contest, And The Friday Night Fireworks Spectacular. NYC Subway's Including The "D", "F", "Q", "N" Line Stop Here. Take The Belt Parkway And Exit At Either Cropsey Avenue Southbound, Or Ocean Parkway Southbound...Then Just Follow The Signs To The Beach. The Beach Area And The STEEPLECHASE PIER Are NYC DPR Jurisdiction. Surf Fishing On The Beach During Season Is Prohibited. The STEEPLECHASE PIER, Loacted Along The Boardwalk, Just Way Out Into The Atlantic Ocean Past The Swiming Area, And Is Almost Shaped Like A "T." This Is Another Year-Round Popular Fishing Spot (Inclement Weather Permitting). It Can Get Very Crowded With Anglers And Tourist's Alike On A Good Summer Day, Or Night. Another Popular Spot "WAS" From The Jetty Rocks At The Beach At West 37th. Street. However I had heard and read recent reports that Anglers have been banned from there. A few even even given a summons for being on the Rocks, and/or in area of beach with get this "No Lifeguards On-Duty." Seems NYC Parks has all New Rules re: their beaches, but why does the public Not Know About Them. Why did they not have the Media give proper public notice to it all ?. Time For New Mayor ?.--Hell, Time For New Folks at the Top Running NYC Parks. Anyway, If you do fish this jetty and "Don't Get Your Stones Busted", Use Caution Doing So, As A Few Anglers in the past Have Slipped On The Rocks And Were Either Seriously Injured Or Pronounced Dead Right After Doing So.

FYI- NYC DPR Enforcement Is Out In Force Patrolling the Beach (Other Beaches too) with ATV's, etc.. "Over Police'ing." For Bloomberg's Needed $$$ City Revenue.

CONEY ISLAND CREEK PARK..."Good Surf Fishing Spot"---If Ya Travel Northbound On West 37th. Street From Neptune Avenue It Will take You to the Bayview Houses. Make a right then left onto Bayview Avenue. Take that along the shoreline to the end. There Is A Small Secluded Shoreline Beach Area, just Opposite The eastside of the SEA GATE Cooperative. Follow the sandy trail at the entrance. There You Can Surf Fish Where Coney Island Creek Meets Both The Atlantic Ocean And Gravesend Bay. Give It A Try!!!. Note: This Spot May reportedly Soon Disappear as part of a plan to further secure the Sea Gate shoreline. And do heed the Warnings here on our site about fishing the Creek.
The Face Of The Coney Island Amusement Area Is To Change Over The Next Few Years, as Old Favorites are replaced by reported New Development. "We'll See!." So Long 'ASTROLAND' which has now been demolished. It joined 'STEEPLECHASE PARK', and The Original 'LUNA PARK' (and other Other Coney Favorites Now only noted in The History Books and On Internet sites). There Is A New 'LUNA PARK' Now Open For the 2010 Season In Coney, But It Does Not Compare To The Famous Original.
RINGLING BROTHERS, BARNUM & BAILEY CIRCUS WILL BE OPEN IN CONEY ISLAND ALL SUMMER TILL SEPT. 6th., 2010.
CONEY ISLAND DEVELOPMENT CORPORATION
DENO'S WONDERWHEEL AMUSEMENT PARK
Brooklyn CYCLONES Baseball Website

Gerritsen Bay/Saltmarsh - C) 2001 M.T.WRIGHT
GERRITSEN BEACH INLET...At The Marine Park Salt Marsh:
Located In Brooklyn's "COIS FARRAIGE" (Means "By The Sea") IRISH COMMUNITY. "BROOKLYN'S IRISH RIVIERA!." The Community Is Dominated By Bungalow Homes Nestled On Narrow Streets. Fishing Is At The Southern Tip Of Gerritsen Avenue, At The Southern End Of The Saltmarsh, At Gerritsen Bay Inlet. This Is South Of Avenue "U' Along Gerritsen Avenue. Fish Either The Beach Area, or The Small Dock At The Dead End Parking Area. This Is NYC DPR Jurisdiction Property. No Outdoor Public Bathrooms Nearby. Food Can Be Found At Nearby Deli's And Pizza Shops, On Gerrtisen Avenue.
We SALUTE The Gerritsen Beach Volunteer Fire And Ambulance Corps!...And AOH Div. 12 Brooklyn, For All They Do Each Year For Brooklyn's Irish!!!...Slainte!
Have Your Next Affair At Baiile na NGael ("Home Of The Irish"), 2750 Gerritsen Avenue, Brooklyn. Contact Them For Details. They Even Offer Classes In Irish Language (Gaelic).
BROOKLYN IRISH AMERICAN PARADE
FLATLANDS VOLUNTEER AMBULANCE CORPS
The IRISH LOBBY FOR IMMIGRATION


(c) 2001 M.T.WRIGHT
Marine Park SALT MARSH ENVIRO CENTER

The SALT MARSH At MARINE PARK:
Pictured Is The NYC DPR's ENVIRONMENTAL CENTER, Located On The North End Of The Salt Marsh, Along Avenue "U" At East 33rd. Street, Just Opposite The Southend Of Marine Park, Where You Can Find Free Parking. This Is NYC DPR Jurisdiction. 1.25 Miles Of Wetlands. Urban Park Rangers Are On-Site, And DPR "PEP's" Patrol The Area. On Foot, On Horseback, And In Dune Buggys. Fishing Is Only Permitted Along The Westside (Right Side) Of The Enviro. Ctr. In The Salt Marsh. Eastside (Left) Is For Nature Explorers Only. The Salt Marsh Ends Along The S. End Of Gerritsen Avenue. Small Craft Can Access Much Of The Marsh, But It Is Not Suggested At Low Tide. Good Surf Fishing Spot. A Number Of Species Of Fish "Spawn" In The Salt Marsh.
The Community Of Marine Park Is Yet Another Strong IRISH Enclave. We Say, "FAILTE" To Our Web Site, To Our Many IRISH Brothers And Sisters In Marine Park, Gerritsen Beach, Bay Ridge, Park Slope, Windsor Terrace, And The Greenpoint/Northside Communitie's!!!. "We Were There FIRST, Before The REST, And Indeed, STILL ARE!." There Are Bathrooms At The ENVIRO. CTR., When It Is Open. No Food Facility On-Site, Bring Your Own. NYC DPR's Environmental Center Is A Learning Center For Both Young And Old...Many Learning Activities Are Available To Educators And Their Students...Call Them!.
FACT: The waters of the 'Saltmarsh' Are A Breeding Ground For Many Species Of Local marine Fish.
MORE BELOW, SO SCROLL DOWN...

Mc GUINNESS IRISH GIFT SHOP...Your #-1 NY Source For Irish Clothing, Goods, Music, Irish Newspapers, Ireland Tri-Color Flags, Domestic-Imported Irish Products, & Your St. Pats Day Decorations. More!. 3609 Avenue "S", In The Heart Of 'Marine Park', Brooklyn ,U.S.A.-- (718) 627-0009 -- We Recommend Them!.
DARA RECORDS (Celtic/Irish Music)
FDNY EMERALD SOCIETY PIPES & DRUMS
PIPES & DRUMS Of THE EMERALD SOCIETY Of THE NYPD
PIPE & DRUMS OF The POLICE EMERALD SOCIETY OF WESTCHESTER COUNTY, NY
PIPERS COVE -- Your Source For Irish/Sottish Products-- Bagpipes, Kilts, Much More! (Click)
BROOKLYN IRISH AMERICAN PARADE
BAY RIDGE ST. PATRICKS DAY PARADE
AOH NYC ST. PATRICKS DAY PARADE
NY IRISH CENTER L.I. City, Queens
WFUV-FM's 'Ceol na nGAEL', The Popular, Favorite Radio Program Of Both GERRITSEN BEACH & MARINE PARK!!!
FYI-- Midi Wav Music On This Page Is Of "The CORRS' Hit "So Young."