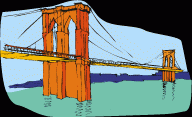 The GATEWAY TO NEW YORK CITY...
The Verrazanno-Narrows Bridge On GRAVESEND BAY (C) 2000 M.T.WRIGHT
(C) 2001 M.T.WRIGHT
The Bay Ridge-Gravesend Bay Promenade
BRAVO Volunteer Ambulance Corps.





***(2/24/07)- HEALTH WARNING- DO NOT FISH GRAVESEND BAY- Recent Report Cited Increased Levels Of Lead & Mercury On The Surface Of the water. Toxins Pose a Danger To Marine Life and Humans, Especially If you EAT any Fish you catch in The Bay!!!- 'FISH ELSEWHERE!."
The 6-Mile Long Seawall Promenade Runs From The Southern Foot Of Bay Parkway, Opp. (Caesar's Bay Shopping Center), Runs North Along The Bay Ridge Anchorage, And Ends At Bay Ridge Avenue/The "69th. Street Pier." This Seawall Promenade Runs Paralell To The Eastbound Belt Parkway. Popular Fishing Spots Are Just Near Bay Parkway, Bay 8th, St., Bay 14th. Street, Just Under &Opposite The VZ Bridge, And 79th.-81 Street's. Great Year-Round Fishing Spot. This Area Is Under NYC DPR, And D.O.T. Jurisdiction. A "Roach Coach" Parks In The Vehicle Rest Spot, Between Bay Pkwy. & 14th. Ave.. No Bathrooms Near That Spot, Except By Bay Pkwy.. We Suggest You Get Your Food At Caesar's Bay, Or Bring It With You.
Location Landmarks: The VZ Bridge, Ft. Hamilton Army Base, The Brooklyn Veterans Hospital, Caesars Bay Shopping Plaza. Late In The Afternoon On Sat., Sunday You Can View Crusie Ships Departing and Entering NY Harbor. Great Spot To View The Flotilla On "Fleet Week."


2.) The 69th. STREET PIER In Bay Ridge (Is Also "COIS FARRAIGE") ...Located At 69th. Street And Shore Road, Opposite The Shore/Belt Parkway, The Pier Is Another Popular Year-Round Fishing Spot. Parking Nearby Is A Problem. You May Have To Park, Then Walk A Distance To The Pier. On A Great Day, Or Night, As You Can See From The Photo Below,The Pier Gets Crowded With Anglers. Bikers, Joggers, Roller Bladders, Others, As Well. In Extreme Weather Situations, Anglers And Pier-Users Alike Avoid Going There. This Pier Is Under NYC DPR Jurisdiction. "Seasonable Portable Johnny's" Located Nearby. A Seasonal "Roach Coach" Offers Hot Dogs, Etc. When He Is Around. Short 2-3 Block Walk To Deli's On 69th. Street. BAY RIDGE Is Also A Big Brooklyn Irish Enclave.
The 69th. Street Pier Is Home To The "BROOKLYN 9/11 MEMORIAL BEACON", Honoring The Fallen Victims Of the Attack On Sptember 11, 2001. It Was Officially Dedicated On May 16th., 2005. Back In 1922, There Was A Large Public Recreational Pier Located At The Foot Of 20th. Ave, On Gravesend Bay. Damn Shame It Is No Longer There.
Another Popular Spot For "Some" Local Bath Beach Anglers, Is A Dock At The NYC Sanitation Barge Station, Near 25th. Avenue (Near The Belt Pkwy.). We DO NOT Recommend It. Way To Precarious.
Despite Its Gated Closure A Few Years Back, (By The Owners Of The 'Caesars Bay' Shopping Plaza , And NYC Officials), Some Anglers Again Fish Along The Back Exitway Walkway Behind The Kohls And Toys-R-Us Outlet (Just Off Bay Pkwy.) Anyone Heard Of The Word "Trespassing" ?. Fact Is, "They Are!." YO,DON'T FISH THE AREA, DO "READ PREVIOUS NOTICES" Herein Our Site re: Health Hazard Warning!!!. Nice that thyey did a renovation of the rocky area at the end of Bay Parkway. The trash is now gone.


"The VIEW FROM BAY RIDGE" Is "INCREDIBLE!"...Esp. From SHORE ROAD..."BROOKLYN'S GOLD COAST!."
(c) 2001 M.T.WRIGHT
The 69th. STREET PIER IN BAY RIDGE
WFUV-FM's 'CEOL na nGael' "Rocks BAY RIDGE!"


On Flatbush Avenue
A Shoreline Area That Runs From The Westside Of The Gil Hodges Memorial/Marine Parkway Bridge, Up To The Marina, Opposite Floyd Bennett Field On Flatbush Area. Seasoned Anglers Fish Here, Know The Routes in. Parking Is At The Visitors Center At The Entrance Gate To Floyd Bennett. From Sundown To Sunrise When FBB Is Closed, Ya Need An Annual ($50.00) GNRA Vehicle Fishing Parking Permit To Park. Get It At The Ryan Ctr. In FBB. Park There, Try Not To Get Hit By A Vehicle Running Across Flatbush Ave., Just Before The Bridge Toll Area, To Get To DEAD HORSE BAY. Nearest Restrooms Are On FBB. Nearest B&T Is The Marina Behind Toys-R-Us On Flatbush, South Of Belt Pkwy. (When Its Open), Or Sheepshead Bay. DEAD HORSE BAY Is National Park Service Property. Warning, Do Not Fish By Or Under The Bridge, You May Get Chased Away or Interrogated By MTA Police. "It's a Post 9/11 Thing On Their Part!."

(c) 2000 M.T.WRIGHT
The "North 40" Shoreline At Floyd Bennett Field OFF LIMITS!
(c) COPYRIGHTED 2000 M.T. WRIGHT
The LAUNCH RAMP At Floyd Bennett Field- FISHING IS HERE!

FLOYD BENNETT FIELD/GNRA-Former Home To NYC's First Municipal Airport, And A Former US Naval Air Station. Now Home Of The U.S. National Park Service Gateway Natl. Recreation Area. Federal Property And Jurisdiction, Patrolled By Park Rangers And U.S. Park Police (Their Hq Is There).
NOTICE: 5/30/2008- t Seawall And Beach Area At 'Raptor Point' In The "North 40" Of FBB (Top Photo Above) Is OPEN to anglers. Ya May still notice an old Runway Leading To It Blocked Off. THE ARMY CORPS OF ENGINEERS REHABILITATED THAT SHORELINE AREA TO THE LEFT OF "Raptor Point." IT HAD SUFFERED MUCH BEACH EROSION OVER MANY YEARS. FISHING AT FBB CAN ALSO BE FOUND AT THE OLD 'SEAPLANE/BOAT LAUNCH RAMP' AREA (See 2nd. Photo Above), WHICH IS NORTH OF THE NYPD HANGARS/NYC SANITATION TRAINING AREA. There is in actuality a Parking Rest area there. JUST NOTE THAT THE TIDE GETS VERY LOW THERE ON THE TIDE CHANGES. FOLLOW THE ROADWAY SIGNS AT FLOYD BENNETT TO FIND THE FISHING SPOT! Parking Is By Yearly Fishing Parking Permit Only, Which Now Costs $50.00. Great Year-Round Spot On Jamaica Bay. There Are No Food Facilities, And Small Bldgs. With Both Mens And Womens Toilets Can Be Found Not Far Away. Bait Is Not Sold At The Marina Opposite Floyd Bennett Field, On Flatbush Avenue. Buy It In Sheepshead Bay, Or The Marina Behind Toys-R-Us Located Just North Of The Belt Pkwy. On Flatbush Avenue.
You Asked, We Answer It: "What's That 12-Story White Structure Located Near The White NYPD Hangar In Floyd Bennett Field ?. Answer: The 12-Story F.A.A. Doppler Weather Radar For J.F.K. Int'l. Airport, To be Exact.
GATEWAY NATIONAL REC. AREA Website
FRIENDS OF JAMAICA BAY (Click)
AMERICAN LITTORAL SOCIETY (Click)

(c) 2001 M.T.WRIGHT
COLUMBIA STREET PROMENADE In Red Hook


The COLUMBIA STREET PROMENADE In RED HOOK Is Located At The Southern Tip Of Columbia Street At The Buttermilk Channel. Benches, Plenty Of Parking. Local Anglers Swear By This Spot. To Date A Few Fellows Anglers And I Had No Luck There. No Bathrooms Nearby. The NYPD Has Its "Vehicle Evidence" Storage Facility There (Long Blue Building), And It Is Under 24-Hour Physical And Video Surveillance. In These Days Of Heightened Terror Threat Activity, Any And All Illegal Activity Will Be Noticed AT This Location. It Is Located Behind The Bklyn.-Battery Tunnel Hq.. Follow Signs Along Columbia St. That Say "NYPD Pier" To Get There. The Community Will Soon Be Home To An IKEA Outlet, And Passenger Cruise Ship Terminals.


The GANTRY WEST STATE PARK Fishing Pier...
GREENPOINT...Brooklyn's Most Northern Community. America's Leading And Prominent Polish Community!. Smart "Brooklyn North Anglers" Head For Hunters Point - L.I. City, Queens.

For Generations, Residents Of Greenpoint, Northside, Southside And Williamsburg Had Been Fishing Off Of Old Docks Along The East River, And In Both Newtown Creek And Dutch Kills. But Thanks To The NYS Dept. Of Parks & Historical Preservation, There Is A Popular Pier Located Nearby, Just Over The Pulaski bridge In "Hunters Point - Long Island City, Queens". It Is Called GANTRY WEST STATE PARK. The Former LIRR Freight Barge Facility Is Located At The Westend Of 50th. Street On The East River. Look For The Modern High-Rise Apartments As Your Landmark To Locate This Spot. The Piers Directly Face The United Nations Building, The Midtown-East Manhattan Skyline. State Park Rangers Are On-Duty 24/7/365. It Is Open From Daybreak till 10:00 p.m.. Parking Is Often A Big Problem. One Pier Is Dedicated Soley To Fishing. Its Behind The Ranger Station. It Has A Steel Table, Running Tap Water, More. If You Live In Manhattan, And Seek A Great Fishing Spot, Take The "F" Train To The "Vernon-Jackson" Station In LIC. Walk East (Along The Block Where The NYPD 108th. Precinct Is Located) And The Pier Is Just 3-4 Blocks Further. Nearst B&T Is "Dream Fishing Tackle" On Manhattan Ave. North Of Bedford Ave. In The Heart Of Greenpoint. We RECOMMEND This Spot! Additional Note: Just Adjacent To Gantry West (North), Construction Is Underway On The Site Of The Old Pepsi Cola Plant To Create Yet Another Waterfront Park, Which Would Include An Ampitheater, And Other Atractions. The Old Neon Pepsi Sign Was Moved To Another Spot On The Site And Is Still In Existence (Visible From Manhattan Along The East River).
***FOOTNOTE: The GANTRY WEST Fishing Pier is featured in the Steven Spielberger Film "MUNICH", should ya want a real-time look at it. View the Closing 5-10 minute Segements of the Film to get your view. Notice the Movie Extras they hired to play recreational fishermen in the background. Hey what about Us "Real Anglers" ???. The Piers are also featured in many other TV/Movie features, print ads, and citizens personal Wedding Photos/Videos. The United Nations is right across the River From Here. On a clear day or evening, Ya can see the Piers visible across the River as you drive along the FDR Drive In Manhattan (By The U.N. area).
The 'GANTRY WEST' Piers are a Great Viewing Spot for the Macy's 4th. Of July Fireworks, But That Is Only if ya get there and find a Spot By "Noon."
INFO. UPDATE (9/26/05)- We Are Told That Due To Budgetary Cuts At NYS P&HP, There Is No Ranger On Duty Beyond 8:00-9:00 p.m..
DO NOT FISH The waters of 'Newtown Creek' (Under The Pulaski Bridge, Nor East Of It into Queens). Area Of Diamond St. & Norman Ave. Especially. Big lawsuits going on regarding it reportedly being a tainted, toxic, cancer causing, polluted waterway. Many Nearby residents died of some form of cancer.

PLACES TO EAT IN GREENPOINT:
1.) LOMZY NYNIANKA POLISH RESTAURANT (Great Food At Reasonable Prices. Great NY Times Rest. Review.): E/S Of Manhattan Avenue Just North Of Bedford Avenue.

2.) RUSS PIZZA: 700 Block Of Manhattan Avenue (Near Eckerd Drugs. Busiest Pizza Place In North Brooklyn).
3.) PETER PAN DONUTS & MUFFINS: 700 Block Of Manhattan Avenue (Opp. Eckerd Drugs. Nice, Young Friendly Polish Counter Girls To Serve You. Named One Of The Best Donut Shops In All NYC, By Joe Avelar,WNBC- Newschannel4).
4.) The PARK LUNCHEONETTE: (Great Place For Breakfast Or Brunch)-Driggs Ave., West Of Manhattan Ave. (Just Opp. The McCarren Park Playground). ***Closed During Winter Months...Will Reopen In The Spring***

PLACE TO EAST IN LONG ISLAND CITY:
1.) JUNIOR'S CAFE (Superb Italian Food & A Bar): 46-18 VERNON BLVD..
2.)BUTCHERS DELI (Looks A Bit Dingey, But They Make Great Sandwiches,Coffee; Open 24/7; Closest To The Pier): VERNON BLVD. NR. 50 STREET.
3.) PUNJABI INDIAN CUISINE (Recently Named A Best Indian Rest., By WABC7-Eyewitness News): 13-15 43rd. AVENUE (South Of Silvercup Studios 0n 21st. St.).
LONG ISLAND CITY...Home To NYS DEC Region 2 Offices, And Home To The Fishing Pier At '[Gantry West Park'. If yer Irish, Do Stop By And Check Out The Popular 'The NY Irish Center' at 10-40 Jackson Avenue (Just Opposite DEC Region 2 Offices).

(c) 2001 M.T.WRIGHT
FDNY CAPT. LOUIS VALENTINO, Jr. MEMORIAL PIER


LIBERTY HEIGHTS- RED HOOK: "The Louis Valentino, Jr. Memorial Pier" To Be Exact. Which Is Actually Located On The Southwest Tip Of The RED HOOK Community. The Name Reflects Its Great View Of The Statue Of Liberty, Located In The Area Way Behind The Bklyn.-Battery Tunnel. NYC DPR Built And Dedicated A Pier To Fallen Local Resident Fire Capt. Louis Valention, Jr.. He Died In A 5 Alarm Fire, Not On "9-11." Tragic Loss Of Life None The Less. I Met Him A Number Of Times While Doing My Tv News Job. "Great Young Guy!." Anyway, Local RED HOOK Anglers Also Swear By This Spot. Friend And I Have Yet To Hook Anything There Too. Note The Fact That Old Pilings Still Exist Under And Near This Pier, So Your Tackle Could Get Hooked. Follow Along "Ferris Street" To Get There. Major Parking Problem Here!. The Pier Is Under NYC DPR Jurisdiction.
The MANHATTAN BEACH BOARDWALK: No Photo Available. This Is Another Popular Spot. It Is The Eastend Of The Boardwalk At Manhattan Beach. This Is The Area With The Fence That Seperates The Beach With From The Senior Citizen Facility. Eastend Of Oriental Blvd., Down By Kingsborough Community College. Enter The Park By The Tennis Courts. In The Summer, Most Anglers Fish This Spot After The Beach Closes Each Day, And Before The Lifeguards Come On-Duty. NYC Parks & Recreation Does Not Permit Surf Fishing From The Sandy Beach Area, Or The Jetty Rocks, When Swimming Is In Season. Parking In The Community Is A Major Problem. Stay Off The Rocks Font Of The Boardwalk Area You Will Be Fishing. They Are Highly Dangerous To Climb On.

In Memory Of Councilman James E. Davis...
An Acquaintance, & A Strong Supporter Of Prospect Park, And Its Many Freshwater Anglers!
JAMES DAVIS And I Spoke About Fishing. And We Hoped One Day Would Indeed Do So Together. Yo, "STOP THE VIOLENCE!."
FELLOW ANGLERS...WE NEED YOUR SUPPORT!...NYC Park Freshwater Anglers Deserve The Right To Use Pedal And Rental Row Boats On Certain NYC Parks Lakes For "Recreational Fishing." This Includes Central Park, Flushing-Meadows Corona, And Brooklyn's Prospect Park. Example: In Prospect Park, The Prospect Park Alliance, Its Administration Has "Banned" Fishermen From Using Their Seasonal Rental Pedal Boats For Fishing. They Cite "Insurance Liability" As A Factor. "Legal Bullshit!!!." We Point Out That Fact That In Just Prospect Park Alone, "Summer Camp Groups" Who Use The Same Rental Pedal Boats Are Their Biggest Liability, As They Are Un-supervised Kids, They Horse Around On Them, And They Could Be Injured, More So Than A Recreational Fishermen Or Fisher Woman." Yes, Indeed Anglers Have Witnessed This Activity Taking Place. We Ask All Fellow Anglers (Freshwater/Saltwater) To E-Mail, Telephone, Or Write The Following To Say, "We Demand The Rights To Use Pedal And/Or Row Boats For Recreational Fishing Purposes In All NYC Parks!."

E-Mail/Call/Write To: Honorable, Adrian Benepe, Commissioner NYC Parks & Recreation; Honorable Gifford E. Miller, Speaker Of The NYC Council, City Hall; Honorable Julius Speigel,Brooklyn Parks Commissioner (Same Address As The Alliance); The Prospect Park Alliance, 95 Prospect Park West, Bklyn., NY 11205; The Central Park Conservancy; And Your Local City Councilman And State Assembly Member; The NY Civil Liberties Union. "We Have The Right!." Help Us In Achieving This Goal, Which Benefits "You" As Well!.

In NYC, Together And As A Whole, Freshwater And Saltwater Fishermen/FisherWomen Are "The Largest Recreational Sporting Group" Out Of All. Each Year We Add Alot Of $$$ To The City And State's Budgets And Economy, As A Direct Result Of Our Chosen Sport. And We Have A "Major Voice And Electoral Votes That Count" At Election Time. "Your Vote Has An Impact On Their Annual Budget (From The City, State, Federal Government). Let's Show Them "How Much Of A VOTE" We Indeed Do Have, In Respect(s) To Their Annual Appropriated Budgeting!. Join Our Fight...E-Mail, Telephone, Write Them TODAY!. We Also Ask The NYSDEC To Take A Major Stand On This Issuee As Well. For Our NYC Parks, Their Lakes And Ponds, Are "NY State Freshwater Fishing Waters", And "They (NYSDEC) Help Stock Them, And Annually Provides NYC P&R With Funding As Well".

Thank You, And Tight Lines From All NYC Parks Anglers.